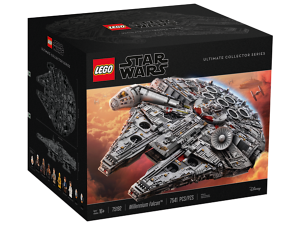 We've seen the Reddit posts, the Facebook rumors, and the official LEGO teasers… But now it's finally revealed! LEGO has unveiled their brand new Millenium Falcon set (75192) in all it's beautiful detailed glory.
Coming in at a whopping 7,541 pieces, this is the BIGGEST Falcon yet! Only pictures can do this thing justice, so please, check out the item page on the LEGO shop website itself HERE.
This new model is almost to perfect scale with minifigures, and will be sure to make a huge impression in anyone's LEGO display. Its predecessor, 10179-1: Ultimate Collector's Millennium Falcon pales in comparison at a measly 5,197 pieces (light sarcasm implied).
If anyone plans on picking this one up, let me know so I can come over and drool all over it for you.
Feel free to post your thoughts in the comments below!