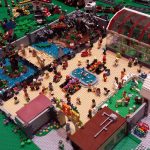 It was a cold, snowy St. Patrick's Day weekend this year; the kind of day that was meant for heading down to Indy to check out some awesome LEGO displays! Indoors at Brickworld, of course. A few of us from FortLUG did exactly that. At the show, members Luke and Kim Schutt had their Zoo on display, which has grown considerably since its debut at Brickworld Fort Wayne 2016. It started with an area the size of just nine baseplates (30″x30″), but now covers a full 8'x5′! The multi-tiered structure packs in so much detail it's hard to capture it all in photos. I recently asked Luke and Kim a few questions about their epic creation and here's what they had to say:
About how many pieces is it?
I estimate there are at least 25,000 pieces, probably way more.

About how many minifigs are there?
A bit over 300

What's your favorite part and why?
Kimberly's is probably the petting zoo because of the goats. I really like the savanna with how it has a raised viewing platform and the rear cliffs. Kim also likes it because its our largest section of integrated exhibits.

What part was most difficult to build and why?
Getting the terrain elevation correct was tricky. Since the zoo is modular, we had to figure how to hide all the connections with each elevation change and keep all the modules strong enough with limited support bricks.

Any future plans or new additions in the works for it?
We are hoping we can have the cliffs on the sides modified with a couple tunnels for trains and have an aviary to add. We would like to add some motors to various exhibits to give them more motion. At some point we'd like to also build an aquarium, but we have a lot to gather to build that.

Any other little nuggets about it you'd like to mention?
This is our third iteration of the zoo. Each time we have just over doubled the size.
If you haven't been to a show to check it out yet, I highly recommend you do. The Zoo will be on display in October at Brickworld Fort Wayne 2018, so be sure you check it out. In the meantime, you can check out these pics, but they don't even come close to seeing the real thing. I look forward to seeing the future plans manifested because they will certainly add even more realism and eye-popping detail to an already amazing model.